Science Topics – 162
Long-term depression-inductive stimulation causes long-term potentiation in mouse Purkinje cells with a mutant thyroid hormone receptor
Ayane Ninomiya (*Nobutake Hosoi, Noriyuki Koibuchi)
Thyroid hormone is indispensable for brain development. Congenital hypothyroidism causes learning disability and motor deficits unless the proper treatment is applied as early as possible. However, the mechanism has yet to be revealed. We focused on the cerebellum, which expresses a plenty of thyroid hormone receptors and controls motor performance. Long-term depression in Purkinje cells is important for motor coordination and motor learning. Using the transgenic mice expressing a human mutant thyroid hormone receptor specifically in Purkinje cells, we examined the effect of thyroid hormone on the cerebellar functional development.
Transgenic mice spent longer on walking on the ladder than wild mice did, indicating the impairment in motor coordination. Long-term depression (LTD) - inductive stimulation caused long-term potentiation. This was resulted from the low calcium level in Purkinje cells. These changes were not observed in the adult-onset mutant mice, suggesting that thyroid hormone during the development is critical for functional maturation of Purkinje cells. The present finding could be applied to other brain regions including the hippocampus which is responsible for learning and memory.
Long-term depression-inductive stimulation causes long-term potentiation in mouse Purkinje cells with a mutant thyroid hormone receptor. Ayane Ninomiya, Izuki Amano, Michifumi Kokubo, Yusuke Takatsuru, Sumiyasu Ishii, Hirokazu Hirai, Nobutake Hosoi, Noriyuki Koibuchi. Proceedings of the National Academy of Sciences USA. 2022; 119(45): e2210645119. doi: 10.1073/pnas.2210645119.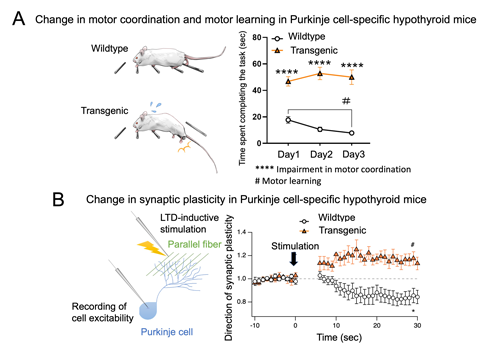 ---
<Figure Legends>
(A) Transgenic mice spent longer time on walking on the ladder than wild mice did. They did not display motor learning. (B) Long-term depression-inductive stimulation cased long-term potentiation in Purkinje cell-specific hypothyroid mice.
---
Department of Integrative Physiology, and *Department of Neurophysiology and Neural Repair, Gunma University Graduate School of Medicine, Japan